Düsseldorfer Str. 90 | 40545 Düsseldorf
Welcome to the state capital of NRW. Six Sigma College Düsseldorf is located in the tranquil district of Oberkassel. Düsseldorf Oberkassel is on the left bank of the Rhine and is connected the right bank of the city of Düsseldorf by the Oberkassel bridge and the Rheinkniebrücke. We can be easily reached using public transport, and from the airport, you can reach us by taxi in about 15 minutes (11 km).

The training rooms are located in the courtyard of Düsseldorfer Str. 90 and offer a quiet and pleasant environment where you can fully concentrate on training to become a Six Sigma Professional.

By public transport, you can reach us as follows:
From the main train station (Hauptbahnhof), take bus line 725 towards the Hafen. Descend at Kirchplatz and take line 835 or 836 direction Seestern to the Barmer Straße stop (two-minute walk (200 metres).
Or: From the main train station (Hauptbahnhof), take the undergound line U70, U74, U75, U76 or U77 to the Barbarossaplatz or Belsenplatz stop. Then you'll have a 5-7 minute walk.
Directions by car: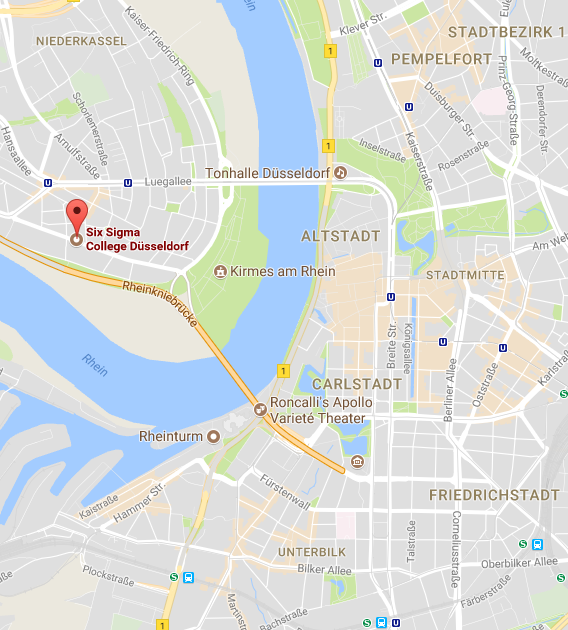 From Düsseldorf-Hafen/Zentrum
Rheinufertunnel – follow Mönchengladbach/Düsseldorf Oberkassel – cross the Rheinkniebrücke bridge – stay in the right lane – take the Oberkassel exit – continue straight at the light onto Düsseldorfer Straße – we are located 600 metres down on the right.
From Mönchengladbach A52
From A52 – take the Düsseldorf-Heerdt exit – turn left at the light onto Heerdter Landstraße – continue straight for roughly 3.5 km / cross Nikolaus-Knopp-Platz, Pariser Straße direction Rheinkniebrücke until you reach Düsseldorfer Straße – we are located on the left, address 90.
Unfortunately, parking on the surrounding streets has been limited to one hour.
Unlimited parking is available at the ParkOne GmbH parking garage at Barbarossaplatz (Luegallee 69 – 40545 Düsseldorf). Hours: 24hrs./day, 7days/week (daily maximum €19). From the Barbarossaplatz parking garage, you can reach our office by foot in about seven minutes on Luegallee and Dominikanerstraße streets (600 metres).
We look forward to your visit!