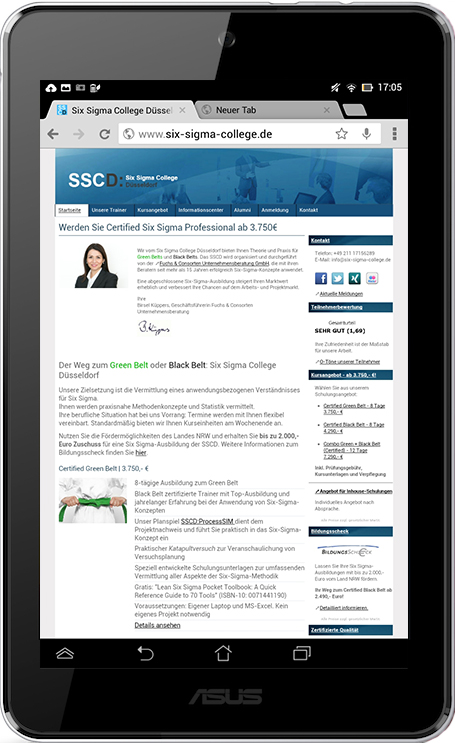 As a participant in our Six Sigma training courses, you have the choice of whether you would like your training materials in classic print version or on the SSCD-Tablet.
If you choose the SSCD tablet, you will receive a fully-functional and personalised Lenovo Tab 3 7 Essentials tablet (or equivalent) loaded with all the training materials you need to complete your Six Sigma Professional course.
Choose the right package for you
It's your decision which option is right for you. Note that our SSCD tablet offers other ways to follow our Six Sigma courses, but cannot fully replace the possibilities of the classic print version.
Decide for yourself which of these options will allow you to draw the most benefit from the Six Sigma course. If you choose the SSCD tablet, you will incur no additional costs and of course, at the end of training, the tablet is yours.
For an additional €250, you have the possibility of receiving your training materials in both print version and on the SSCD tablet.
Depending on availability, the device type may vary. We may offer a Lenovo tablet, which is in no way inferior to the Lenovo model in terms of specifications and handling.
---
Technical support from Lenovo Germany
For technical questions and problems, please contact Lenovo Support.
For guarantees and warranties, the legal regulations apply.