---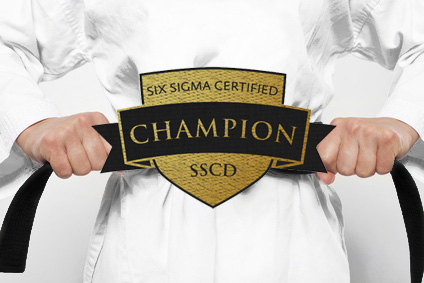 The Six Sigma Champion is a member of senior management. He is a sponsor of Six Sigma projects and oversees the success of the Six Sigma improvement measures. Six Sigma projects are initiated by the Champion and he purposefully supports their implementation at each phase.
As part of our Champion training, you'll gain a full overview of the costs and benefits of Six Sigma improvement measures. You will also receive comprehensive information about the possibilities and opportunities presented by Six Sigma as a management method, as well as a solid review of the Six Sigma core process DMAIC. Our training complies with the standards of the American Society for Quality (ASQ).
The training is completed in two days, and all courses can be booked as ➚in-house trainings.
---
Your Certified Six Sigma Champion training
Type of training

Price:

2-day training

1.200,- € plus MwSt.
all inclusive
Prerequisites: none
Your course fee includes:
Six Sigma Champion certification
SSCD Essential Guide
Specially-developed training materials, as a SSCD: tablet or classic print version
Written, working and test documents, SSCD USB stick
Photo documentation of the entire course, including all flipcharts
Drinks and refreshments provided during training
Our course dates:
2 days Certified Six Sigma Champion: 05.03.-06.03.2019 Düsseldorf
2 days Certified Six Sigma Champion: 02.05.-03.05.2019 Düsseldorf
Feel free to ask about alternate dates.
---