---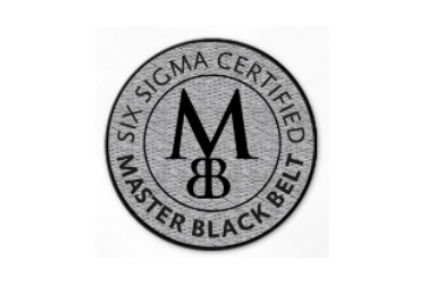 The Master Black Belts plays a key role in the company-wide introduction of Six Sigma as an efficient breakthrough strategy for improving business processes.
The Black Belt's task is to coordinate the introduction of Six Sigma into the company in cooperation with top management, to train Black Belts and Green Belts, to guide them in the performance of their Six Sigma projects and to offer technical and methodical support.
In addition, Master Black Belts are instrumental in the selection and preparation of Six Sigma projects. Top management and the Six Sigma Champions work together to plan the necessary human and material resources. The interaction between Six Sigma and CIP teams as well as the differentiated application of appropriate methods and techniques are coordinated by the Master Black Belt.
---
Your Certified Six Sigma Master Black Belt training
Type of training

Price:

3 days

3.190,-€ plus MwSt.
all inclusive
Our promise:
No more statistical methods, just management training!
Course objective
Participants acquire the in-depth knowledge and skills necessary to apply special Six Sigma tools and the required methodological-didactic knowledge to prepare and conduct Six Sigma Black Belt and Green Belt trainings.
Management topics (Communication and Presentation)
Six Sigma roadmap, Overview of the DMAIC cycle
Training of Belts as part of the Six Sigma concept
Leading Six Sigma teams
Methodical-didactic aspects in teaching the curriculum within the DMAIC cycle phases
Project presentation by all participants
Presentations by the participants on selected topics
Homework assignment on a selected management topic
Management topics (Project Management and Change Management)
Project reviews
Preparation of a short lecture presentation on project management
Lean Six Sigma (overview)
Change Management Basics
Conflict Management Basics
Prerequisites:
Successful completion of the Six Sigma Certified Black Belt course
Proof of specific work experience in Six Sigma and/or completed (Six Sigma) projects
Questions on how to have your qualifications recognised? Don't hesitate to ask us!
Your course fee includes::
Master Black Belt certification
SSCD Essential Guide
Practical catapult attempt (DoE)
Specially-developed training materials, as a SSCD: tablet or classic print version
Written, working and test documents, SSCD USB stick
Photo documentation of the entire course, including all flipcharts
Drinks and refreshments provided during training
Our course dates:
3 days Master Black Belt: 27.02.-01.03.2019 Düsseldorf
3 days Master Black Belt: 24.04.-26.04.2019 Ulm
3 days Master Black Belt: 27.05.-29.05.2019 Düsseldorf
3 days Master Black Belt: 12.06.-14.06.2019 Ulm
3 days Master Black Belt: 26.08.-28.08.2019 Düsseldorf
3 days Master Black Belt: 28.10.-30.10.2019 Düsseldorf
3 days Master Black Belt: 16.12.-18.12.2019 Ulm
Feel free to ask about alternate dates.
---