Certified Champion according to the ASQ Six Sigma Body of Knowledge
---

The Six Sigma Champion will be a key part of the Six Sigma project. Six Sigma Champions come from senior leadership and are the people who initiate and drive the Six Sigma process. They operate as project sponsors and monitor the success of the project, as well as the Six Sigma improvements.
As a Six Sigma Champion, you will ensure that Six Sigma methods are applied correctly.
You support the implementation of Six Sigma projects in a goal-oriented manner in every phase and are jointly responsible for the success of the project.
Six Sigma Champion – at a glance
1-day Six Sigma Champion training course
Certification accredited according to ASQ® Standard
The (Lean) Six Sigma training for leaders
In Düsseldorf, Neu-Ulm or as online training
Specially developed training materials
free e-learning
From 669,00 EUR
Learning contents
---
Learning about Six Sigma as a method for process improvement
Six Sigma as a management tool (saving costs, reducing processing times, time to market, etc.)
Change management, methodical-didactical aspects of teaching the learning contents in the phases of the DMAIC cycle
Tools: SMART goals, Feedback 2.0, Recognizing and solving conflicts, GROW Lean Coaching, The Six Sigma Board for team coordination, Six Sigma Change Management
… and many examples from other companies from our 20 years of consulting experience
Course price
---
From 669,00 €.
The course price includes certification as a Six Sigma Champion, free e-learning, specially developed training documents, and drinks and lunch at classroom seminars.
Requirements for participation in the Champion Seminar
---
None.
Six Sigma Champion training overwiew dates
| Course | Date | City | Price | Register |
| --- | --- | --- | --- | --- |
You can book the Certified Six Sigma Champion training, like all our Six Sigma training courses, as a classroom seminar in Düsseldorf and Neu-Ulm or as a live online seminar. In any case, you will encounter a pleasant and optimal learning environment.
For companies, we also offer our Six Sigma Seminars as an in-house training.
Six Sigma Champion Timetable
---
The basis of your learning success is the optimal balance of learning and relaxation intervals and the opportunity to deepen and apply what you have learned. You can find more information about your daily schedule in the timetable.
Your Master Black Belt training starts at 9:00 am on the first day. The training days will take 8 hours. The rest of the agenda will be discussed with the trainer.
Your Six Sigma Champion Badge
---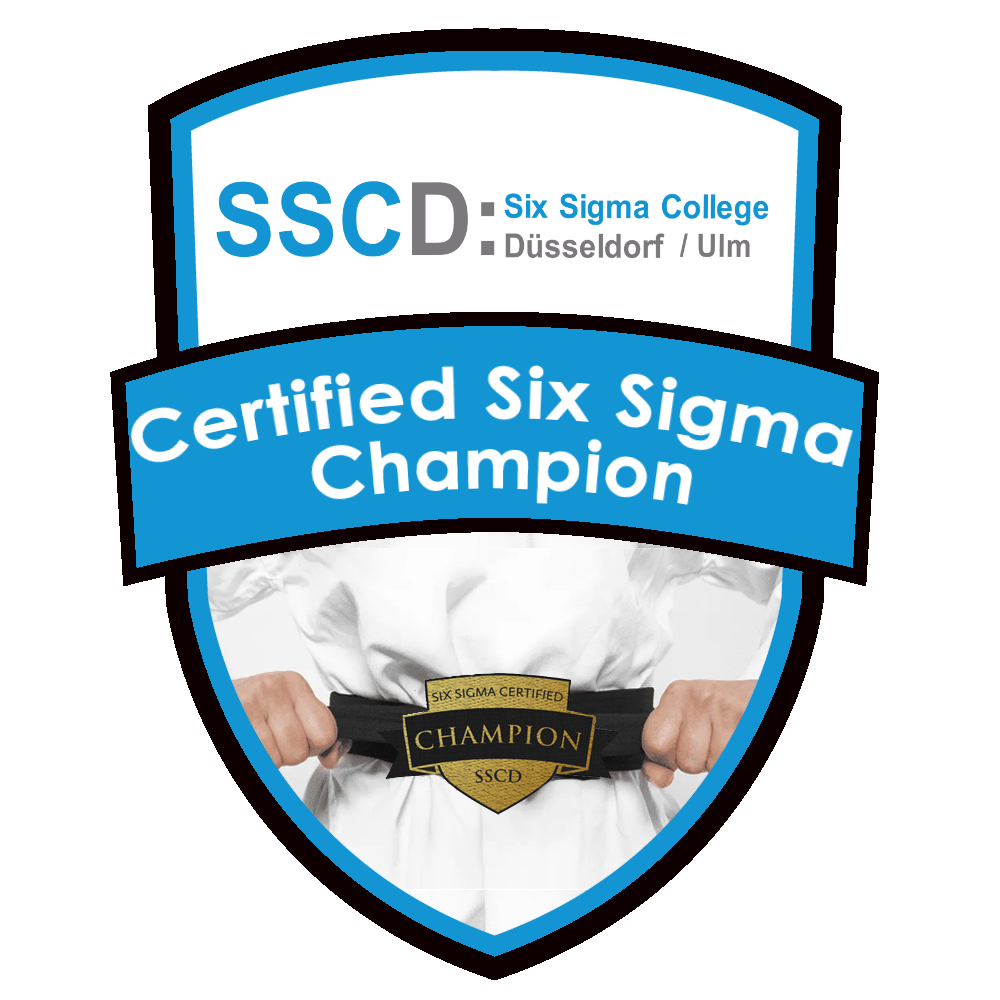 After successfully completing your training, you will receive a certificate as proof of your certification as well as a virtual badge – your Six Sigma Badge. This also allows you to publish your certification online and paperless.
Learning content of the Champion training
---
As part of our Champion training, you will receive a comprehensive overview of the costs and benefits of Six Sigma improvements. You will also gain a comprehensive insight into the opportunities and possibilities of Six Sigma as a management method, as well as a sound overview of the Six Sigma core process DMAIC. The structured approach to problem solving leads to measurable results and delivers tangible outcomes in the form of business performance improvements. Our training is aligned with the ASQ Six Sigma Body of Knowledge.
The tasks of a Six Sigma Champion in the company.
---
The tasks of a Six Sigma Champion in the company are:
Drive Six Sigma within the company
Identify, prioritize and initiate Six Sigma projects
Provide the green and black belts
Review project results and support project teams in doing so
Communicate and market Six Sigma within the company
Measure and report results across the enterprise
Without Six Sigma champions in leadership, it can be difficult to drive Six Sigma in the enterprise. As a trained champion, you will be able to establish or advance Six Sigma in your organization.
Your Six Sigma Champion Trainers
---
Our experienced Six Sigma experts have many years of practice and experience in management positions, as consultants and speakers. Real project experience and in-depth theoretical knowledge form the basis for all training courses at SSCD as well as the documentation provided. All Six Sigma trainings – from Yellow Belt to Master Black Belt – are developed and conducted by our highly qualified and experienced team.