Free e-learning for 2 months
For all participants of our Six Sigma trainings, the e-learning will be activated free of charge until 2 months after the end of the course. If desired, the e-learning can be activated for an unlimited time for + 350,00 €.
Do you want to do a Yellow Belt training or train to become a Master Black Belt – our e-learning is the perfect support for you as part of our Six Sigma trainings.
Benefit from the following advantages in the e-learning portal:
Deepening of the course content of your Six Sigma training course
additional material for download
more than 50 hours of video material 
over 1000 pages of templates and slides
Access to useful tools.
Das E-Learning bleibt bis 2 Monate nach dem Kursende kostenlos freigeschaltet. Das E-Learning kann für + 350,00 € unbegrenzt freischaltet werden.
Vertiefen Sie Kursinhalte und laden Sie zusätzliches Material herunter. Profitieren Sie von mehr als 50h Videomaterial inklusive über 1000 Seiten Templates, Tools und Folien.
E-learning unfolds its full benefit if, for example, you missed parts of your training or were unable to pass a certification exam.
What can you expect in the e-learning module of your Six Sigma training?
With the training at Six Sigma College, you get the best of both worlds: High-quality trainings in our Six Sigma classroom or live online seminars in addition to comprehensive self-learning materials in the e-learning module.
In the e-learning portal, all your learning content is designed clearly. Depending on your booked Six Sigma training, different modules are unlocked. Areas that do not belong to your seminar remain locked. This allows you to work in a focused manner to your learning aim.
Achievements
In frequent e-learning sessions, you will be able to deepen your understanding of all the course content from your Six Sigma training. Repetition as well as praise is an important part of this process.
Repetition is used to stabilize content and anchor it in the memory in such a way that what has been learned can be recalled at any time. Praise reinforces positive behaviors and can help increase your engagement.
When using the platform successfully, you will be rewarded with achievements – for example, when you have watched videos or answered exam questions correctly.
Look forward to interactive and exciting content!
Test Questions
To test your knowledge, more than 500 test questions are available. These are structured according to the individual chapters and sorted thematically, so that you get direct feedback on your learning success.
In subject areas where knowledge deficits become apparent, it is advisable to repeat the content. For example, watch our video content, work through the relevant slides or complete practical exercises. All learning content is available without any restrictions.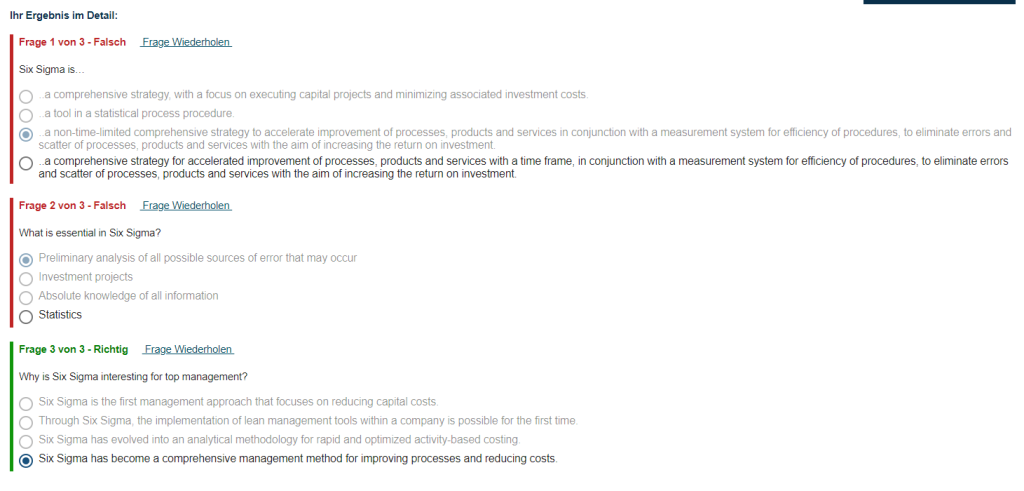 Exam Simulation Six Sigma Trainings
Test your Six Sigma knowledge under examine conditions in our simulated test.
We challenge you with 50 random test questions. All questions are being generated from the question pool of a real certification exam. You have a total of 60 minutes for the exam.
As a participant in a Six Sigma training seminar at Six Sigma College, we have placed you in a perfect position to pass the certification exam. But if something does go wrong, you can repeat the exam simulation as many times as you like until you feel ready for the real exam. We will support you until you have your desired certificate in your hands!