Certified Green Belt and Black Belt according to ASQ Six Sigma Body of Knowledge
---

You can´t achieve your Six Sigma certification for Green Belt and Black Belt in a more compact, faster and better way.
Because the combined Six Sigma training at Six Sigma College allows you to complete both certifications in one training session.
This particularly form of Six Sigma further training is ideal if you want to save time and resources and get to your Six Sigma certification target quickly. In just 12 or even 8 days (Boot Camp), our Six Sigma training provides you with all the contents of the Green Belt and Black Belt trainings. You will acquire sound knowledge in quality management and process optimization and learn how to apply various statistical methods. The intensive work and the high learning level in a community of people with like-minded ideas will challenge and inspire you.The Six Sigma Green Belt and Black Belt certifications are internationally recognized standards. Successful completion of Six Sigma training opens many doors for you – even in international business.
Six Sigma Combo – at a glance
8- or 12-day training to become a Green and Black Belt
Certification accredited according to ASQ® standard
In Düsseldorf, Neu-Ulm or as online training
Extensive training material
Real project examples
free use of the e-learning portal
Inkl. 2 exams
From 6.599,00 EUR
Guest speaker Prof. Dr. Thomas Münster (Professorship Development and Quality Management TH Cologne)
In the Combo training you will learn ….
---
Six Sigma Basics – What is Six Sigma? What is Lean Six Sigma?
The D-M-A-I-C Process – Project Management in Six Sigma
The Project Charter – Business Case Calculation, SIPOC, VOC
Lean Tools – Histogram, Boxplot, Time Series Chart, Control Chart, Pareto Chart, Value Stream Mapping, Ishikawa Chart, Sigma Level Calculation
Creative Tools – Brainstorming, data analysis to find solutions, solution process capability.
Risk management – FMEA, risk assessment and prevention
SSCD: ProcessSIM® – Our Six Sigma business game – a real business case.
Management tools: change management, Six Sigma Board, feedback, standard operating procedures (SOP), time management, coaching.
Statistical Methods – Introduction and basic concepts, scale levels, probability, discrete distributions, process capability, control charts and process models.
Statistical tools in Minitab/Excel.
Leadership and Project Management Tools: Pacing and Leading, SMARTe goals, Feedback 2.0, Resolving Conflicts, GROW Coaching, STAR Method.
Managing teams – The Six Sigma Board for team management
Change Management
Recap Lean Management Tools: Setting up project charters correctly, business case calculation, activity-based costing, risk management in Six Sigma projects
Project Management
Statistical methods: Introduction Basic concepts, Scale levels, Probability calculation, Discrete distributions, Process capability, Process models, Statistical tests, etc.
Design of Experience (DOE)
We can enrich the Combo training at Six Sigma College with many real project examples from our 20 years of consulting experience. This added value from practical project experience has proven to be particularly valuable in our Six Sigma training courses.
Course price
---
From 6.599,00 €.
The seminar price includes Green Belt and Black Belt certification, free e-learning, specially developed training materials, statistical and Excel templates, as well as drinks and lunch at classroom seminars.
Requirements and exams Six Sigma further training
---
Requirements: None
Exam: The Green Belt certification is based on the ASQ Six Sigma Body of Knowledge and concludes with a 2-hour exam. The same applies to the Black Belt certification.
Events Six Sigma Combo Trainings at a glance
| Course | Date | City | Price | Register |
| --- | --- | --- | --- | --- |
You can book the Six Sigma Combo, like all our Six Sigma training courses, as a classroom seminar in Düsseldorf and Neu-Ulm or as a live online seminar. In either case, you will encounter a pleasant and optimal learning environment that ideally supports your learning objective.
For companies, we also offer our Six Sigma certification as an in-house training.
Combo Belt timetables
---
The basis of your learning success is the optimal structure of learning and recovery phases and the possibility to deepen and apply what you have learned. You can find more information about your daily schedule in the timetable.
Click here for the Boot Camp schedule
Your Six Sigma training starts on the first day at 9:00 am. The training days will be 8 hours long. The further agenda will be discussed with the instructor.
For our Boot Camps, the course starts on the first day at 9.00 am. The training days will be 11 hours long. The rest of the agenda will be discussed with the instructor.
Your Six Sigma Green Belt and Black Belt Badges
---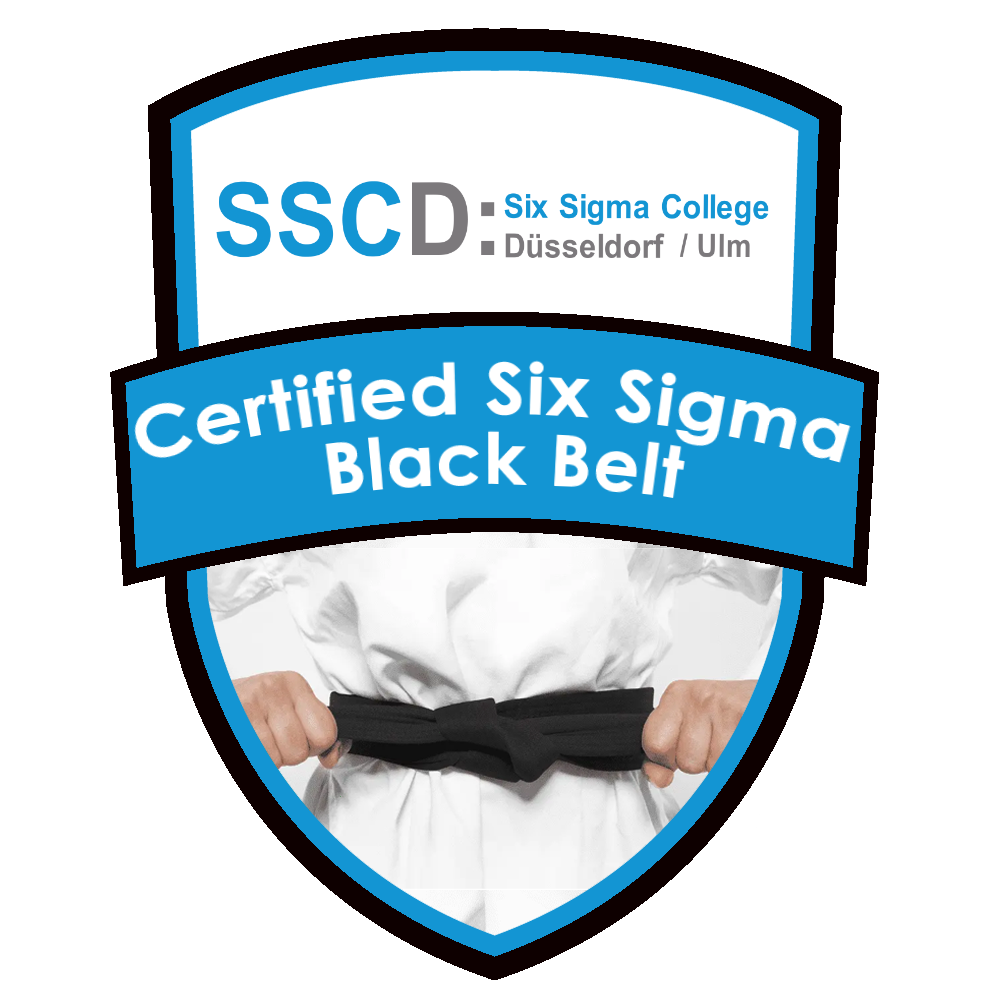 After successfully completing your Six Sigma training, you will receive certificates as well as virtual badges – your Six Sigma Badges – to prove your certification.
With the Green and Black Belt badges, you can also prove and draw attention to your certifications online and paperless to outsiders.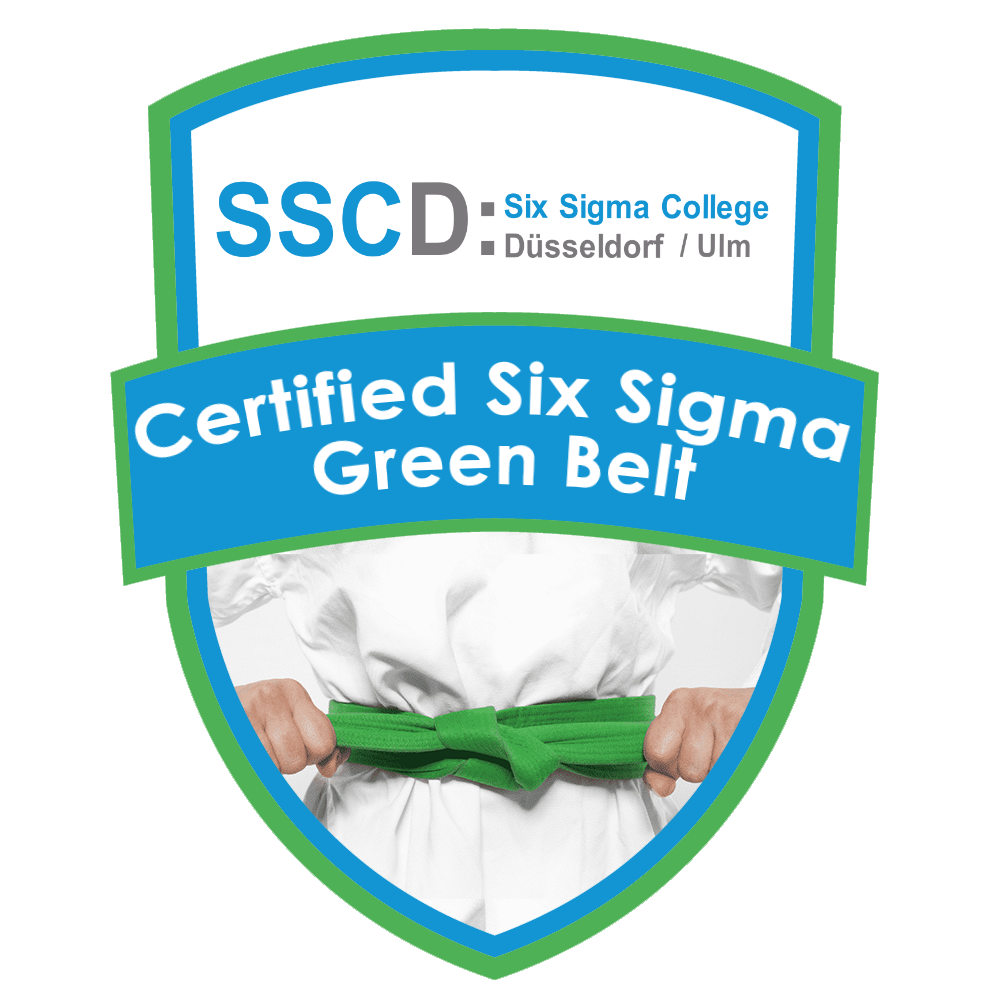 Learning contents of the Six Sigma training Green Belt and Black Belt
---
The learning contents of the Combo correspond exactly to the contents of the Green Belt and Black Belt trainings. The Six Sigma training also is based on the ASQ Six Sigma Body of Knowledge. So you won't miss anything on your shortened path to Six Sigma certification.
In any case, the scope of learning is unabridged and fully comprehensive.
You may wonder how we make this short and intensive path to your Six Sigma certification possible? Particularly expert trainers with relevant practical experience and high-quality, tried-and-tested materials form the basis of our high-quality Six Sigma training seminars. Our in-house e-learning, which allows you to repeat and deepen the learning content free of charge, will help you as a learner on your direct path to certification.
The tasks of Certified Green and Black Belts in the company
---
With your "dual" Six Sigma certification, you can carry out the tasks of both a Green Belt and a Black Belt after successfully participating in our Six Sigma Combo.
You will be able to solve complex tasks and troubleshoot problems effectively. Not only do they have a fundamental knowledge of the Six Sigma philosophy and methodology – they can apply it with confidence.
Our Six Sigma training also qualifies you to execute complex improvement projects as well as lead a project team. Your extensive skills and knowledge will enable you to successfully implement necessary changes in the company.
In the company, you can aspire to positions in middle to senior management and can have a decisive influence on the corporate culture.
Your trainers at Six Sigma College
---
Your trainers are our best and most experienced Six Sigma experts. They have many years of practice and experience in management positions, as consultants and speakers. At Six Sigma College, real project experience and in-depth theoretical knowledge form the basis for all training courses as well as the materials provided. All Six Sigma training courses – from Yellow Belt to Master Black Belt – are developed and conducted by our highly qualified and experienced team.
Exclusive guest speaker at Six Sigma College
---
Prof. Dr. Thomas Münster (Professorship Process Development and Quality Management Cologne University of Applied Sciences) has about 15 years of worldwide technical and commercial project experience. At Six Sigma College Prof. Dr. Münster teaches as a guest speaker in all Black Belt and Master Black Belt seminars on the following main topics:
Business Excellence with a focus on – Holistic Excellence – Lean Six Sigma -Software-supported, dynamic process optimization.
Lean Management with a view to the entire value chain: development, design, production, operations and service.