Notice
: Undefined variable: months in
/app/wp-content/themes/twentytwenty-sscd/inc/seminare/shortcode-seminar-table.php
on line
183
Warning
: Invalid argument supplied for foreach() in
/app/wp-content/themes/twentytwenty-sscd/inc/seminare/shortcode-seminar-table.php
on line
183
Certified Master Black Belt according to the ASQ Six Sigma Body of Knowledge
---

The Master Black Belt is the highest level in the Six Sigma hierarchy and is only achieved by experienced leaders with the appropriate knowledge and skills.
The Six Sigma Master Black Belt is responsible for the successful implementation of Six Sigma in the company. In cooperation with the management he develops the strategic alignment of the Six Sigma projects.
The Master Black Belt has an important and central part in a modern OPEX/BEX organization.
As a Master Black Belt, you should also have good leadership abilities and be successfully motivating and leading your project teams.
Six Sigma Master Black Belt – overview
3-day Master Black Belt training
Certification according to ASQ® Standard
Reqiurements: Black Belt certificate & 2 Black Belt projects
Düsseldorf, Neu-Ulm or as online training
Extensive training material
free E-Learning
From 3.799,00 EUR
Guest lecturer Prof. Dr. Thomas Münster (Professorship TH Cologne)
In the Six Sigma Master Black Belt training you will learn ….
---
Six Sigma Basics – What is Six Sigma? What is Lean Six Sigma?
Management Topics (Communication / Presentation) – Project Selection, ROI, Role of MBB
Presentation of Black Belt projects
Basics of modern leadership – basic assumptions, leadership, self-leadership
Communication methods in change projects – sender-receiver model, what is said behind what is said
Feedback and coaching – GROW coaching, feedback in change processes and leading as a coach
Conflict management – advanced feedback techniques , structured conflict resolution methods
Professional change management I – phases of change, change curve, recommended actions
Professional Change Management II – Rollout of Change Initiatives, Best Practice Sharing
… and many examples from other companies from our 20 years of consulting experience
Course price
---
From 3.799,00 €.
The seminar price includes Master Black Belt certification, free e-learning, specially developed training materials, statistical and Excel templates, and beverages and lunch at classroom seminars.
Requirements for the participation in the Master Black Belt Seminar
---
Black Belt certification and project experience
The Master Black Belt training is suitable for experienced and trained Six Sigma Black Belts who have already successfully implemented several projects. In the seminar, 2 Black Belt projects are presented per participant.
Six Sigma Master Black Belt training overview dates
| Course | Date | City | Price | Register |
| --- | --- | --- | --- | --- |
You can book the Certified Six Sigma Master Black Belt training, like all our Six Sigma training courses, as a classroom seminar in Düsseldorf and Neu-Ulm or as a live online seminar. A pleasant and optimal learning environment as well as a small training group are ideal to support your learning achievements.
For companies, we also offer our Six Sigma Master Black Belt training as an in-house training.
Master Black Belt Timetables
---
The basis of your learning success is the optimal balance of learning and relaxation intervals and the opportunity to deepen and apply what you have learned. You can find more information about your daily schedule in the timetable.
Click here for the Master Black Belt timetable
Your Master Black Belt training starts at 9:00 am on the first day. The training days will take 8 hours. The rest of the agenda will be discussed with the trainer.
Ihr Six Sigma Master Black Belt Badge
---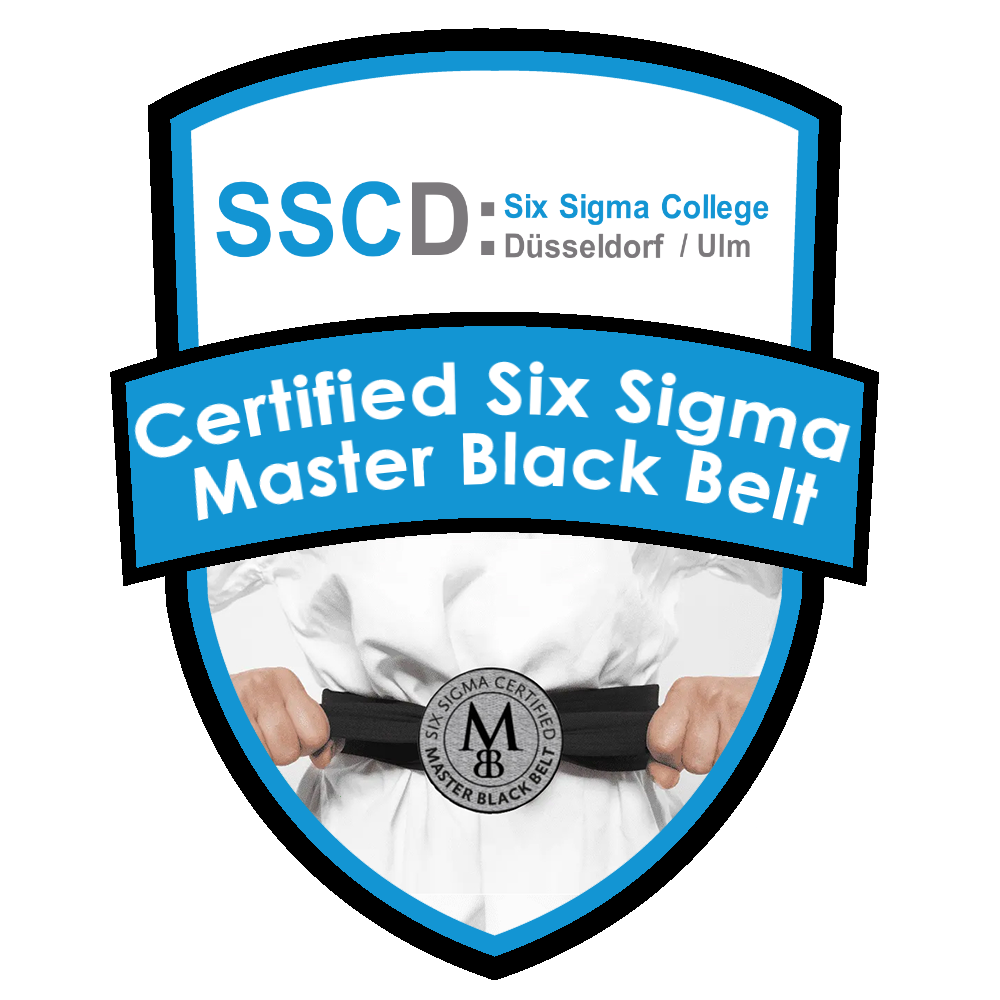 Upon successful completion of your Master Black Belt training, you will receive a certificate and a virtual badge – your Six Sigma Badge – as proof of your certification. With the badge, you can also present your certification online and with paperless proof to outsiders and draw attention to it.
The tasks of a Certified Master Black Belt in the company
---
The functions of a Master Black Belt in an organization are extremely diverse and challenging. Typical areas of application for Master Black Belts are found in a variety of change management projects. Experienced Master Black Belts are wanted when Six Sigma is to be introduced in the company.
In addition, Master Black Belts are significantly involved in the selection and preparation of Six Sigma projects. Together with top management and Six Sigma Champions, they also plan the required human and material resources.
Coordination and monitoring of Six Sigma projects and identification of weaknesses are also part of their responsibilities.
In some cases, the Master Black Belt also performs the function of a trainer or mentor for other Six Sigma experts.
Learning content of the Master Black Belt training
---
In the Master Black Belt training at Six Sigma College, the skills and knowledge acquired in the Black Belt training and in professional practice are perfected.
Learning content includes Agile Six Sigma, Coaching, Deployment strategies and Change management. Methodical-didactical aspects of teaching the learning content in the phases of the DMAIC cycle are also being discussed.
The content of the Master Black Belt training is based on the ASQ Six Sigma Body of Knowledge.
You complete the Six Sigma Master Black Belt in a 3-day compact training course. Learning content and methodology are conveyed in a particularly intensive manner. You can easily apply this Six Sigma certification in your professional work life and directly use new insights and methods.
Experienced consultants, high-quality materials and the supporting e-learning guarantee a particularly high quality of our Master Black Belt training.
Your Master Black Belt Coach
---
Your trainers are our best and most experienced Six Sigma experts. They have many years of practice and experience in management positions, as consultants and speakers. At Six Sigma College, real project experience and in-depth theoretical knowledge are the foundation for all training courses as well as the materials provided. All Six Sigma training seminars – from Yellow Belt to Master Black Belt – are developed and conducted by our highly qualified and experienced team.
Exclusive guest docent at Six Sigma College
---
Prof. Dr. Thomas Münster (Professorship Process Development and Quality Management Technical University of Cologne) has about 15 years of worldwide technical and commercial project experience. At Six Sigma College, Prof. Dr. Münster teaches as a guest lecturer in all Black Belt and Master Black Belt courses on the following main topics:
Business Excellence with a focus on – Holistic Excellence – Lean Six Sigma -Software-supported, dynamic process optimization.
Lean Management with a view to the entire value chain: development, design, production, operations and service.